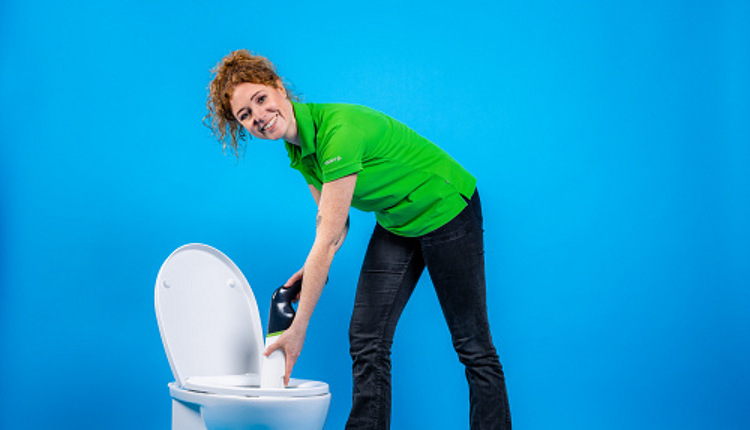 BubbleFlush: Toilet cleaning without cleaning agents
Reading time: 3.5 minutes
Posted 08 March 2022
By Marco Vegers, Senior Account Manager
Following the development of successful and sustainable cleaning products such as Clean 'n Easy, Bright 'n Water, single-use cloths and Tersano, Wecoline joined TranZero in May 2022 to introduce a new, ground-breaking innovation. The BubbleFlush is the world's first active toilet cleaning system that allows you to clean toilets without using environmentally harmful cleaning agents. That's good news for people, their wallets and the environment. In this blog I'd like to tell you more about this new innovation.
Nothing can halt the advance of technology! The BubbleFlush creates ultrasonic vibrations in a toilet bowl. These vibrations create small powerful air bubbles in the water that eventually implode with force to remove limescale and tenacious dirt in a flash. Now that's convenient!
The benefits of the BubbleFlush
Thanks to the innovative operation of the BubbleFlush, daily and periodic toilet bowl cleaning agents become superfluous. Every year you save about 1.5 litres of chemicals per toilet, which of course contributes enormously to a cleaner environment. In addition, the BubbleFlush reduces the use of plastic, waste, transport and water. The wastewater becomes cleaner. And it improves your waste management. Moreover, your purchase of the BubbleFlush makes your cleaning staff happy because they're less exposed to cleaning agents. To use the BubbleFlush, you only have to hold it inside the toilet bowl and no physical force is needed. This will ensure that absenteeism due to illness will decrease and that you can deploy your employees sustainably.
Collaboration with TranZero
In spring 2021, Wecoline entered into an exclusive partnership with TranZero, a company focused on sustainable and green solutions. Together we developed and extensively tested the BubbleFlush. Based on the excellent results and the awarding of the 2021 CSU Innovation Prize, it was decided to officially introduce the BubbleFlush on the cleaning products market in May 2022. TranZero is responsible for product development and production and Wecoline will handle marketing and sales. Personally, I can't wait!
Want to know more about the BubbleFlush?
Watch this video for all the technical specifications. Of course, you can also send your questions directly to me by e-mail at mvegers@wecovi.com or call me on +31 (0)6 514 269 69.
Nicola Williams
Accountmanager UK
"I am happy when my customer is more than happy."
Read more about our cleaning concepts