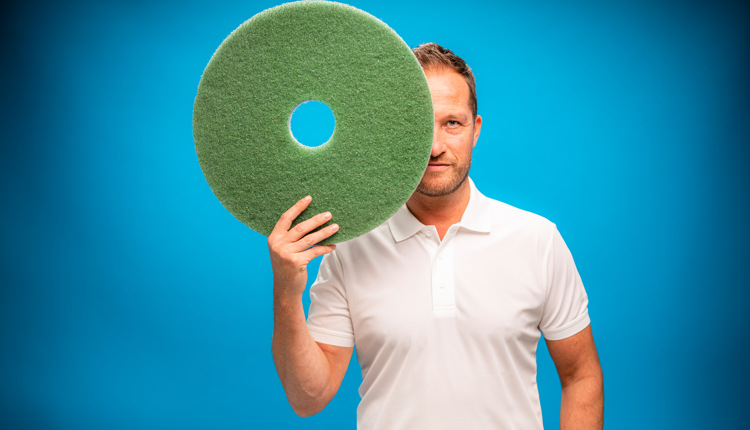 Floor cleaning the environmentally friendly way
Reading time: 4.5 minutes
Posted 07 March 2022
By Tjalling Berghuis
Do you think it's impossible to clean and maintain dirty floors in shops, schools, airports, warehouses and factories using only water? Then it's high time you got to know Wecoline Bright 'n Water pads! We introduced this collection of diamond pads in 2018 specifically for stripping, cleaning and polishing almost all types of floors. Since you don't need to add chemical agents when cleaning floors, you save significantly on cleaning costs. And you're immediately contributing to a sustainable society. In this blog, I further explain the advantages of our Bright 'n Water pads.
I don't like to boast, but the result of Wecoline's Bright 'n Water pads is truly amazing. And all you need is some water and the right pad for your floor. Our floor pads contain a top layer of diamonds, making them suitable for stripping, cleaning and polishing nearly all floor types, from marble natural stone and marble composite tiles, to Marmoleum, rubber and PVC floors, ceramic tiles and terrazzo.
Different pad applications
The pads are available in five colours and in different sizes, including in a rectangular shape. Different colours are used during treatment depending on the amount of contamination and the type of floor. For each floor type, we offer one or two upgrade pads to strip and clean the floor and a cleaning pad to make the floor shine beautifully. It makes no difference whether the floor is in a shop, school, airport, warehouse or factory.
How the pads work
The pads are used with water on a scrubber dryer or single-disc machine and can also be used dry on a high speed or ultra high speed single-disc machine. When the colour of the pad has faded away, it's time to replace the pad. When replaced in good time, cleaning results remain optimal.
Cost savings from pads
Wecoline Bright 'n Water pads are the solution if your floor is no longer shiny or if you want to remove traces of use and stains or wish to repair or restore spots. Using our pads prevents permanent and costly damage to a floor. An additional advantage is that you don't use any chemicals with the Bright 'n Water pads. This not only makes the pads cost-saving (because a stripper for a floor of 50 square metres will quickly cost €20.00), you're also contributing to a sustainable society. And it's worth it!
Want to find out more about the benefits of Bright 'n Water pads?
Read our brochure with information about Bright 'n Water pads. Learn how to work with the pads here. And of course you can also send your questions directly to me by e-mail at tberghuis@wecovi.com or call me on +31 6 516 520 57.
Nicola Williams
Accountmanager UK
"I am happy when my customer is more than happy."
Read more about our cleaning concepts