Reading time: 3 minutes
Fortunately, the terms CSR, SRI, green and sustainable have been very popular in recent years. Also in tenders, European and at a smaller level, sustainable thinking is more the rule than an exception. The ideal tender comes with sustainable solutions, the latest innovations, and not with the highest price. This naturally creates a challenge within tender teams.
In this blog, we will describe four categories that can give you and your (cleaning) client sustainable inspiration.
1. A sustainably clean toilet
The Wecoline BubbleFlush is the world's first active toilet cleaning system that cleans toilets without the use of environmentally harmful cleaning agents. The patented product works with ultrasonic vibrations. These vibrations create small powerful air bubbles in the water which eventually implode with force to remove limescale and adhering dirt in no time. By using the Wecoline BubbleFlush, daily and periodical toilet bowl cleaners become superfluous. The use of the Wecoline BubbleFlush saves 1.5 litres of chemical per bowl per year. This innovation also reduces the use of plastic, waste, transport and water. Other results are cleaner waste water and improved waste management. By using the Wecoline BubbleFlush, cleaning employees are less exposed to cleaning agents. Important for cleaning companies that have sustainable employability of employees and reduction of absenteeism as important challenges.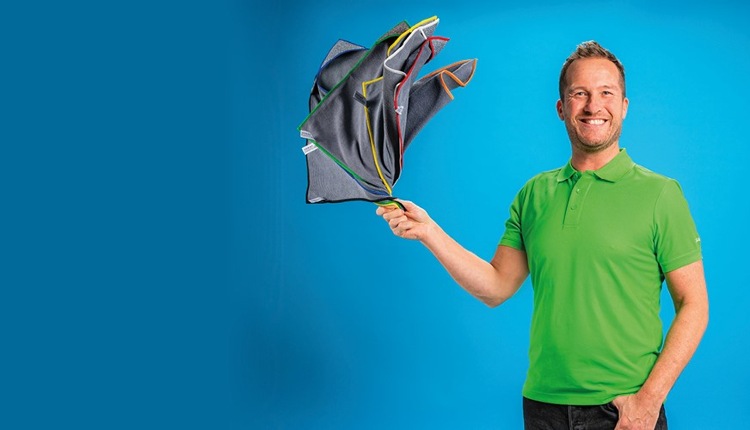 2. Microfibre products with Ecolabel
Working with microfibre and water is already a sustainable way of cleaning because the consumption of cleaning agents is reduced. Would you like to add some extra strength to this way of working in a tender? Then consider using microfibre products with the Nordic Ecolabel. This environmental label guarantees the complete life cycle of a product and certifies on the basis of criteria that apply specifically to microfibre products. These include absorbency, colour retention, dust and dirt removal, and micro-organism reduction (nordic-ecolabel.org, "Nordic Ecolabelling for Supplies for microfibre-based cleaning"). This allows you to show that you are working with sustainable and high-quality products. Moreover, a PWC study shows that working with microfibre generally results in a 9% reduction in life cycle costs. (Revision of EU Green Public Procurement Criteria for Indoor Cleaning Services Technical Report, 2018).
3. Biodegradable Cleaning Cloths
PLA cloths are the solution for locations where people like to clean traditionally, but at the same time want to be environmentally aware. Preferably, you combine this with environmentally friendly cleaning agents or with stabilized ozone water. PLA consists of environmentally friendly material, made from organic raw materials such as sugars from food crops (maize, sugar beet, sugar cane) and wheat or cellulose. The non-woven cloths made of starch plastic are biodegradable and have the TÜV Austria certificate. A great way to achieve a good cleaning result.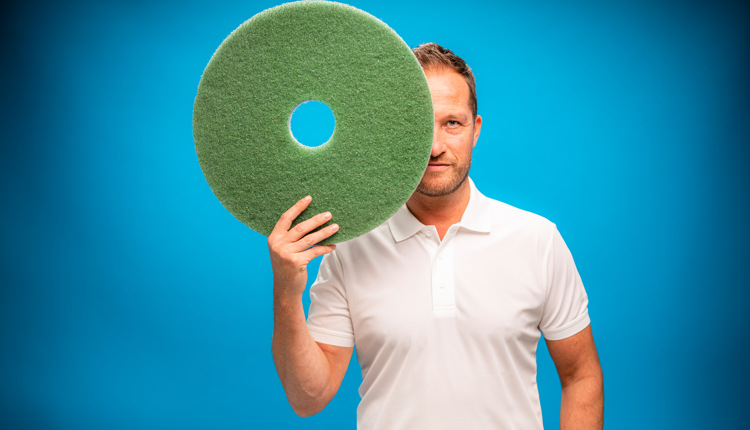 4. Biodegradable Pads
The floor is the business card of a building. A clean floor makes the bottom shelves in the supermarket more attractive. Research shows that 14% of people would never visit a store again if the floor was not taken care of (research conducted by M/A/R/C® Research). Fun fact, but how can you respond to this in a sustainable way? A large part of the Wecoline floor pad range has the Green Seal certificate. This is achieved because the pads are made from recycled PET bottles and are also biodegradable at an accelerated rate. These pads compost to 92.5% after 616 days. In this way, you are not a burden to the environment. We are happy to help you calculate the number of PET bottles that you can save from nature per year.
Contact us
5. Electrical devices
Common devices in the cleaning industry are disc machines, vacuum cleaners, and washing machines. It can be a smart investment to use devices with low energy consumption. The purchase price is often a bit higher, but the consumption is ultimately lower: good for the environment and for the bill.
Would you like more information on sustainable cleaning or do you have any questions or comments?
Our Wecoline Accountmanagers are always happy to help you
Questions about sustainaible cleaning?
Our Wecoline Accountmanager is happy to answer all your questions.
Nicola Williams
Accountmanager UK
"I am happy when my customer is more than happy."
Want to read more?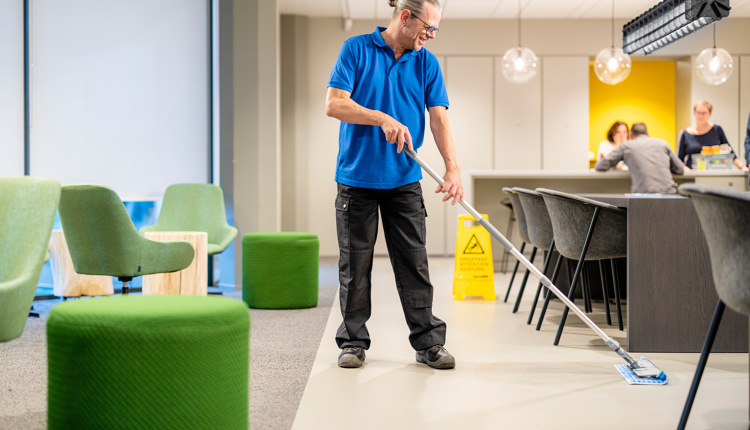 A healthy, safe and vibrant working environment
In this blog we tell you more about how to ensure a healthy and safe working environment.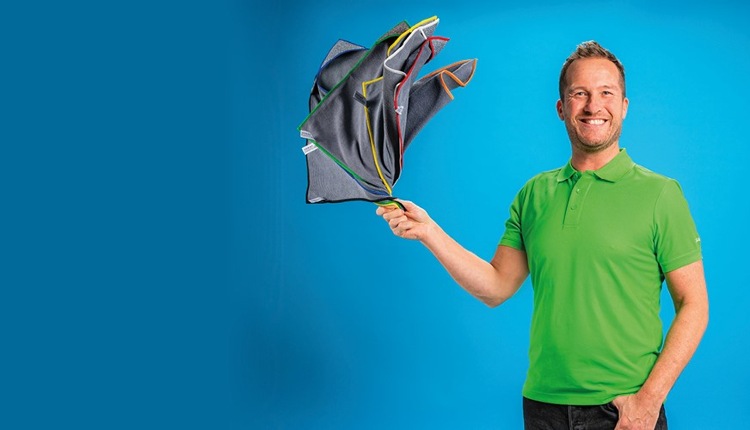 Microfibre: Thorough and sustainable cleaning using only water
Have you noticed that more and more cleaning specialists are choosing Wecoline's microfibre concept? Interested in reading why?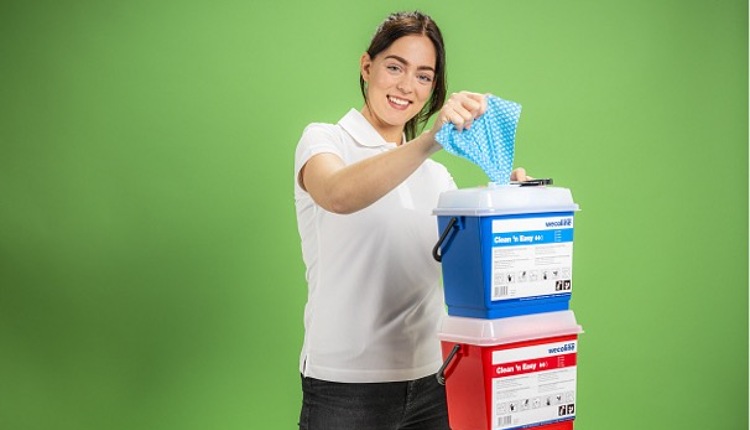 Clean 'n Easy blog: Good cleaning remains important
In this blog we tell you all about the fact that cleaning is still essential in 2022.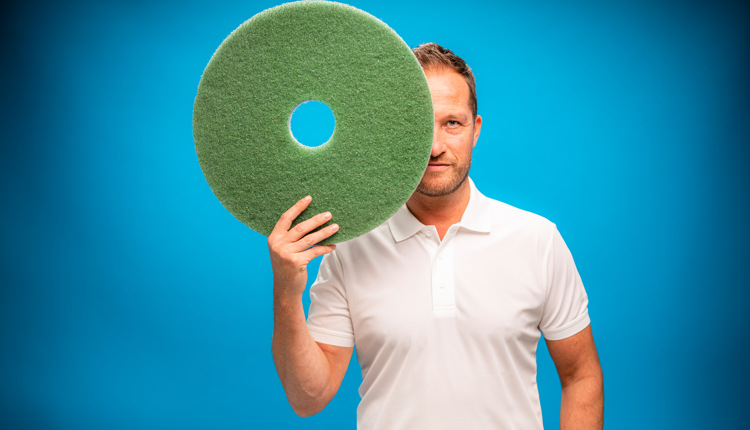 Bright 'n Water pads: Cost-saving and environmentally friendly floor cleaning
Do you think it's impossible to clean and maintain dirty floors in shops, schools, airports, warehouses and factories using only water?