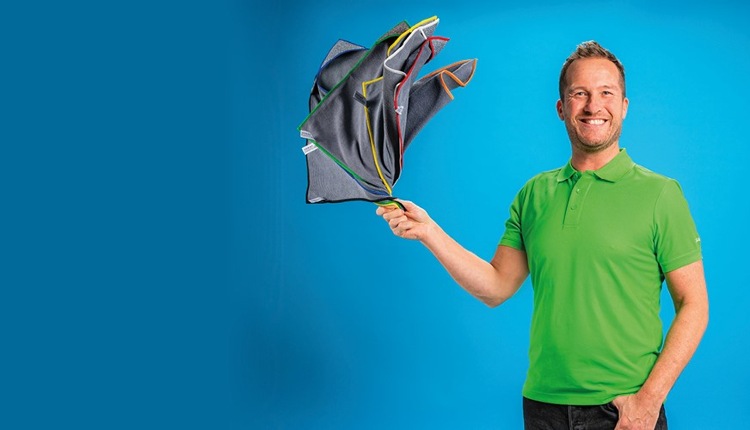 Microfibre: Thorough and sustainable cleaning using only water
Reading time: 3.5 minutes
Posted 08 March 2022
By Marco Vegers, Senior Account Manager Middle & South Netherlands Benelux
Have you noticed that more and more cleaning specialists are choosing Wecoline's microfibre concept? That's because you can get your surroundings really clean with microfibre. The open structure allows the microfibre to optimally penetrate the surface you want to clean. As a result, you can clean a surface quickly. And you do so ergonomically, because with the Wecoline microfibre concept, wringing and bending is a thing of the past. What's more, because you only use a damp cloth for cleaning, you save on the cost of chemicals and contribute to a cleaner environment. In addition, many of our cloths and flat mops carry the sustainable Nordic Ecolabel. In this blog, I'll go into more detail about the benefits of microfibre.
The Wecoline microfibre concept is an inventive cleaning system based on the unique properties of microfibres. A splitting process creates an open-structure fibre that penetrates the pores of the materials and surfaces to be cleaned. This allows you to achieve a perfectly hygienic result using just a slightly damp cloth and clean water.
Microfibre advantages at a glance
Faster and more ergonomic cleaning
A cleaner and streak-free result
Applicable in any environment
Can be used for 95% of everyday soiling
Durable because the cloths are washable up to 500 times
Reduced risk of method errors
Microfibre cloths...
Feel like getting started? All you have to do is choose from our wide range of microfibre cloths and flat mop systems for all surfaces and levels of soiling. For example, with our flexible glass cloth, you can soon get rid of fingerprints. Got smaller hands? Our range includes a smaller size cloth. And almost all of our microfibre cloths are available in multiple colours. The choice is yours.
... and microfibre flat mop systems
In addition to our microfibre cloths, we offer a wide range of microfibre flat mop systems that, in combination with our handles, contribute to optimal ergonomic working methods. The flat mop with a strong and durable Velcro attachment is easy to attach and remove, without any contact being made with the mop. The same goes for our flat mop pockets. With our easy-to-use 2Turn mop system, you benefit from two mops in one. And our microfibre flat mops with flaps can be squeezed very easily and ergonomically. Want to get started with our microfibre products right away? I recommend choosing our microfibre floor set or our microfibre interior set.
The Allure microfibre concept
The microfibre products from our Allure microfibre concept are anthracite in colour, giving your cleaning set an extra professional look. Our Allure products guarantee high-quality cleaning results, and the beautiful colour finish makes it easy to distinguish yourself from the competition.
Nordic Ecolabel-certified microfibre products
Working with microfibre and water is already a sustainable way of cleaning, because you reduce the consumption of cleaning agents. Want to add extra strength to this sustainable way of working? Use our Nordic Eco-certified microfibre products, because there really is a story to tell. This environmental label guarantees the complete life cycle of a product and certifies it based on criteria specific to microfibre products. Examples include absorbency, colour retention, dust and dirt removal and microorganism reduction.
Want to know more about our microfibre products?
Read our brochure. You can view the entire Wecoline microfibre range here. And, of course, you can also send your questions directly to me by e-mail at gderkman@wecovi.com or call me on +31 (0)6 125 045 25.
Read more about our cleaning concepts