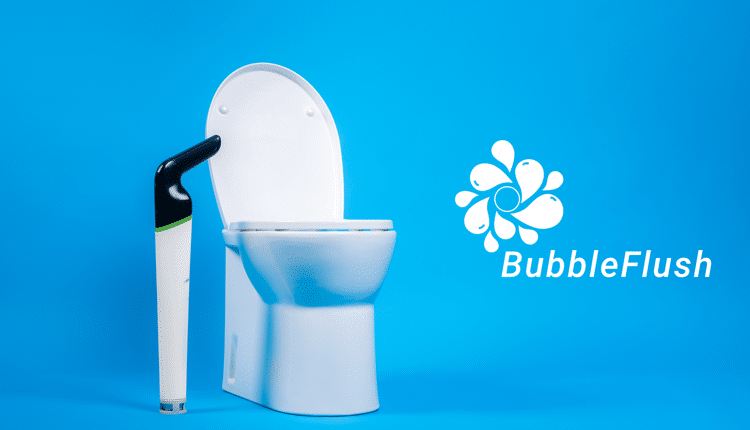 BubbleFlush
Is the world's first active toilet cleaning system that cleans toilets without using environmentally harmful cleaning agents. The patented product uses ultrasonic vibrations. These vibrations create small powerful air bubbles in the water that eventually implode with force to remove lime and attached dirt in a flash. The BubbleFlush is kept in the toilet bowl where no physical force is required from the cleaning employee.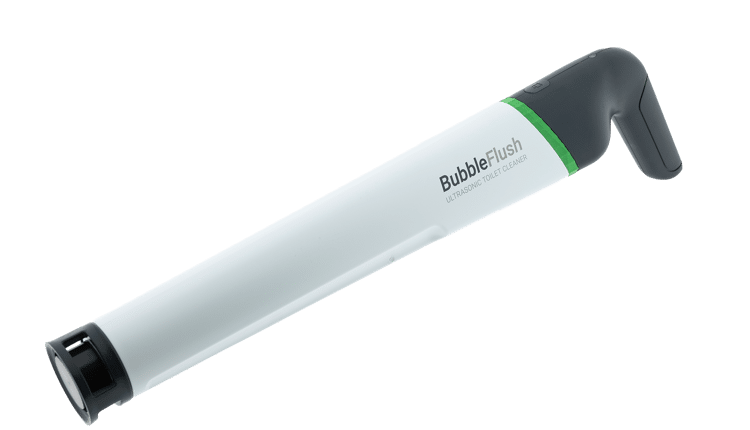 Sustainable cleaning with BubbleFlush
By using the BubbleFlush, daily and periodic cleaning agents for in the toilet pot become unnecessary. Using the BubbleFlush saves 1.5 liters of chemistry per toilet pot annually. This innovation also reduces the use of plastic, waste, transport and water use. Other results include cleaner wastewater and improved waste management. By using the BubbleFlush, cleaning staff are less exposed to cleaning agents. This is important for cleaning companies that have sustainable employee employability and reduced absenteeism as a major challenge.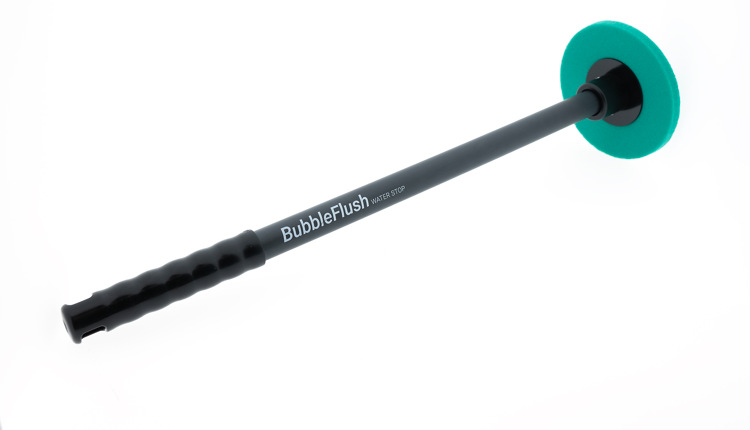 BubbleFlush Waterstop
The BubbleFlush Waterstop helps with chemical-free toilet cleaning. To clean the upper part of the toilet bowl, it requires the water level to rise. The water stop closes the siphon, allowing water to flow into the toilet bowl at the press of the flush button. Use the BubbleFlush to perform cleaning under water. After cleaning, the handle of the water stop can be pulled up slightly, allowing the water to drain through the water stop.
Sustainable cleaning with BubbleFlush
Our colleagues tell you all about BubbleFlush in the videos below:
CSU Innovation Award
The product was presented at the CSU "Tell me more days" and won the CSU innovation prize in November 2021. This confidence and feedback from the practical tests with prototypes has boosted the development of the BubbleFlush.
CSSA Innovation Showcase
More and more people are becoming convinced of the power of ultrasonic toilet cleaning. This is also the case for the jury of the Cleaning and Support Services Association Innovation Showcase taking place at The Cleaning Show in Londen. We are proud to announce that the BubbleFlush has been chosen as one of the 5 winning Innovation Showcase finalists.
Interested in the Wecoline BubbleFlush?
Then register via bubbleflush@wecovi.com for the first product demonstrations by our Wecoline Account Managers.
Availability
In the UK, the BubbleFlush is available at Bunzl Cleaning & Hygiene Supplies. Together for a clean future!
Interested? Do not hesitate to contact our Wecoline team.
Nicola Williams
Accountmanager UK
"I am happy when my customer is more than happy."
Want to read more about our other innovations?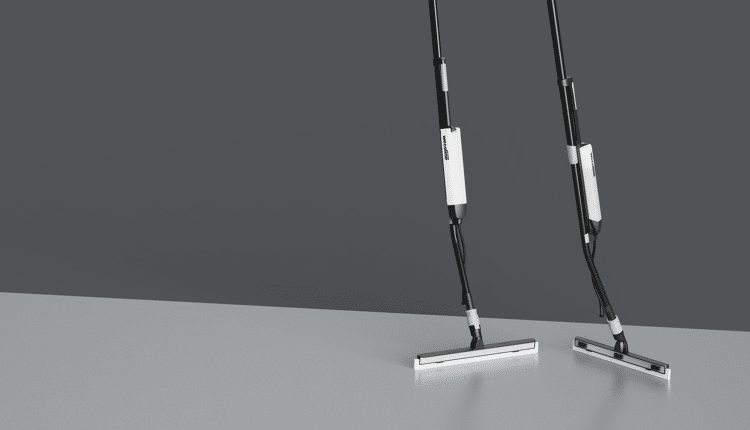 Wecoline Carabao flat mop concept
Want to change mop sides more quickly and exert more pressure when cleaning the floor?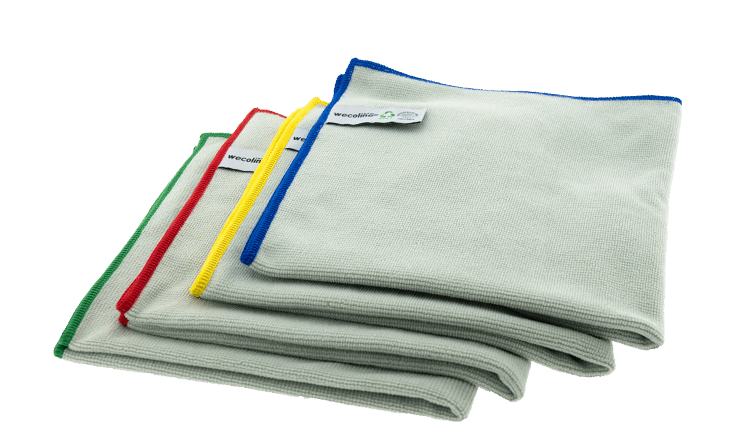 Wecoline 3R microfibre cloth
The Wecoline 3R microfibre cloth. Recycled, Reuse and Reduce.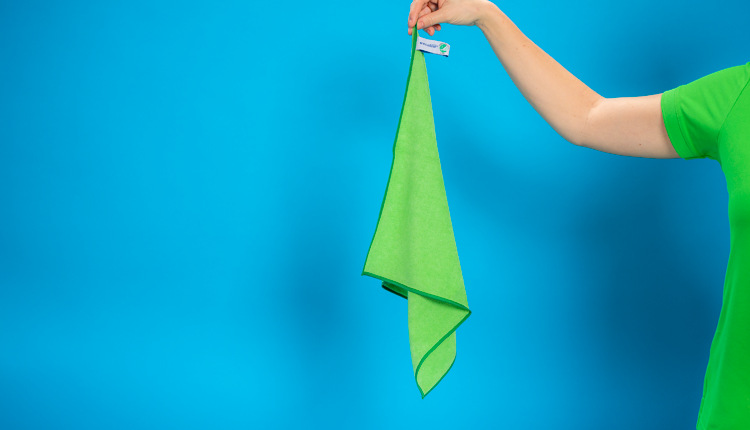 Wecoline microfibre Nordic Ecolabel
Read all about the advantages of the Wecoline Microfibre Nordic Ecolabel.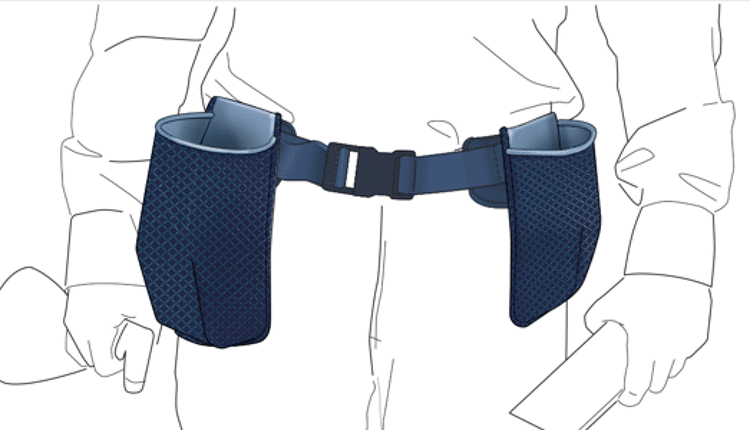 Wecoline belt bag
All cleaning materials easily at hand.