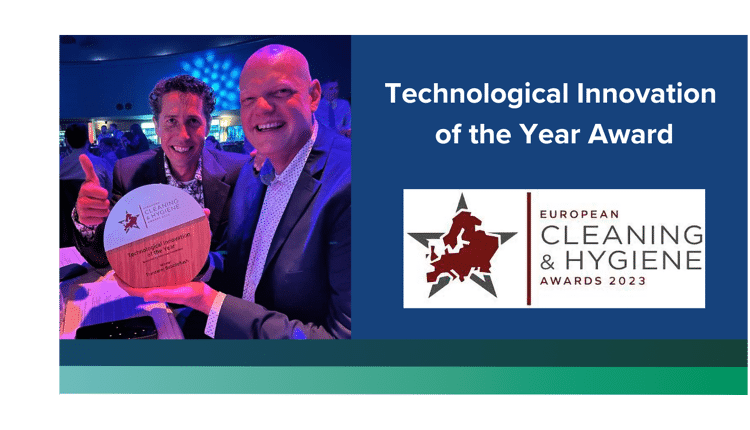 The BubbleFlush receives the ECHA Award 2023
On 5 October, the BubbleFlush was honoured with the coveted "Technological Innovation of the Year Award" at the European Cleaning & Hygiene Awards 2023 in Dublin, Ireland. The jury praised the BubbleFlush for its innovation and especially emphasised that a difficult task, cleaning the toilet, has now become an easy job.

De European Cleaning & Hygiene Awards
The European Cleaning & Hygiene Awards
The European Cleaning & Hygiene Awards, held annually, recognise and celebrate innovative achievements and excellence in the cleaning and hygiene industry across Europe. The "Technological Innovation of the Year Award" is given to the most ground-breaking technological innovation that has raised industry standards and made a significant impact on improving efficiency and sustainability. "Winning the European Cleaning Award for the best technological innovation of the year is a wonderful culmination of all our joint efforts in the development of BubbleFlush" declare Hans Paul Visscher, Director/Owner of Wecovi and Dennis Luiten Director/Owner of TranZero.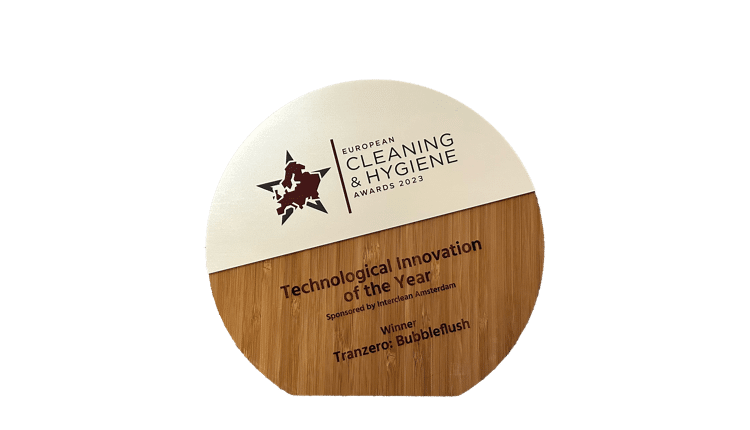 Cleaning toilets with the power of water
The BubbleFlush, developed by TranZero, is an innovative product that is revolutionising sanitary hygiene. With the BubbleFlush, you clean a toilet without chemical detergents. This saves a lot of chemicals. The waste water is cleaner, thus contributing to a better environment. Through ultrasonic vibrations, similar to the equipment used by dentists to remove tartar, the toilet is cleaned. Cleaners no longer have to work on their knees and use harsh chemical cleaners with the use of the BubbleFlush. This allows them to work ergonomically and protects the health of the cleaner.
Game-changer in the cleaning industry
The BubbleFlush represents the commitment to progress in the cleaning and hygiene industry and promises to be a gamechanger in the way sanitation facilities are maintained and cleaned. Since 2021, TranZero and Wecoline have had an exclusive partnership for the BubbleFlush. TranZero takes on product development and production within this partnership. Wecoline, part of Wecovi, focuses on the marketing and sales of the BubbleFlush. For more information about the BubbleFlush or to request a demo, click on the button below.