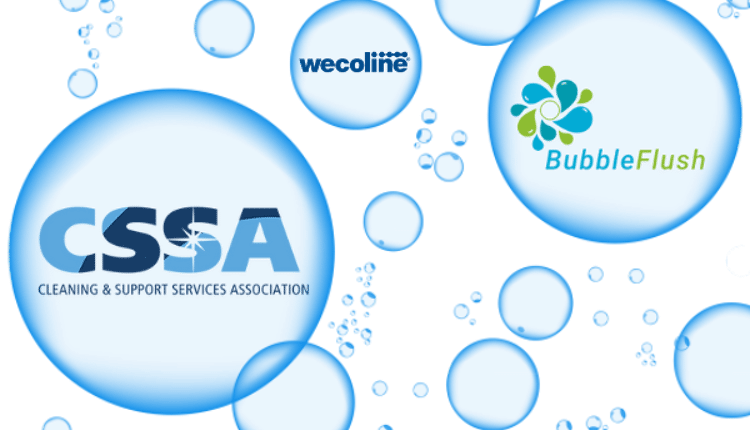 CSSA Innovation Showcase
Toilet cleaning without chemicals? It's possible with the BubbleFlush! More and more people are becoming convinced about the power of ultrasonic toilet cleaning. This patented product, The BubbleFlush, uses ultrasonic vibrations. These vibrations create small powerful air bubbles in the water that eventually implode with force to remove lime and attached dirt in a flash.
It works quick and efficient.
Employees no longer have to work with aggressive chemicals. The environment benefits from this through the drastically reduced consumption of packaging and the chemicals that no longer need to be flushed down the toilet.
CSSA Innovation Awards at the Cleaning Show
Proud can we tell that the BubbleFlush has been chosen as one of the 5 Innovation Showcase Finalists. At stand C30, at the CSSA Innovation Area you can find us showing the BubbleFlush. Here you can experience the product and see the demonstrations. We are happy to show you the way of innovative toilet cleaning with ultrasonic technology.
Cleaning & Support Services Association
Cleaning & Support Services Association (CSSA) will once again host the CSSA Innovation Showcase at The Cleaning Show 2023. Here the showcase will celebrate the cleaning industry's most innovative products, services, and initiatives. This years focus is the 'Future of Cleaning'. The CSSA Awards in association with the Cleaning Show and supported by C&M Magazine is a joint initiative to acknowledge and reward excellence and effectiveness across many sectors of the UK Contract Cleaning Industry.
More questions about the BubbleFlush or the Wecoline products that we offer for cleaning toilets, offices, houses, companies etc. Come visit our stand D17 at the Cleaning Show.